Geely Innovation Centre in Europe Chooses Newsec as Partner for Urban Development Project in Gothenburg, Sweden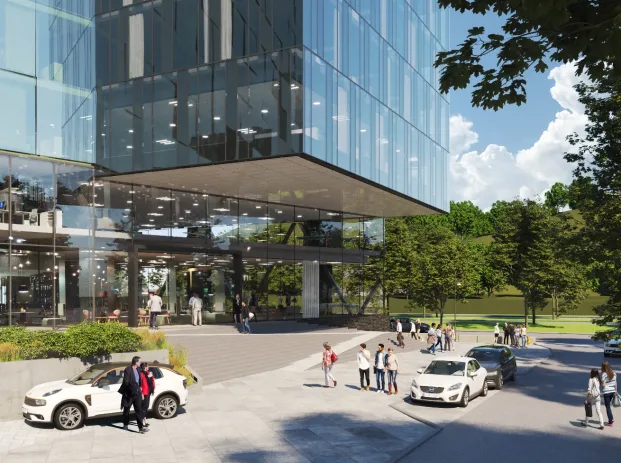 The global automotive group
Geely is the owner of several well-known brands including Geely Auto, Volvo Cars, Lotus and Malaysia's Proton. Since it acquired Volvo Cars in 2010, Geely has made a special connection to Gothenburg.
"Gothenburg is becoming the second home to Geely. The development of the Geely Innovation Centre will fortify Lindholmen as Sweden's innovation hub. We were looking for a long-term partner who could deliver on our entire plan and we are convinced that Newsec as the Full Service Property House is the right choice for us", says Gang Wei, Project Leader of the Geely Innovation Centre in Europe.
The center's main vision is to encourage openness and collaboration in order to foster new innovation. It will become a new link in the long history of entrepreneurship and development, connecting Gothenburg and China: from the flourishing 18thcentury trade to the 21stcentury automotive industry.
"We are proud to be involved in the realization of this prestigious project. The Geely Innovation Centre in Europe is strategically important for placing Sweden at the forefront of research and innovation in the automotive industry. The choice of Lindholmen by Geely for the construction of the property is also an important piece of the puzzle in the development of the Gothenburg region", says Max Barclay, Head of Newsec Advisory in Sweden.
The center is an open platform that will bring together people and companies from diverse backgrounds and enable cross-cultural exchange, mutual learning, as well as the growth of innovative technologies. It will feature an eclectic combination of restaurants, hotel, cafés, and retailers, in addition to state-of-the-art offices and conferences venues.
"The goal is to create an environment that invites dialogue and cooperation, and Newsec will be assisting Geely Innovation Centre with everything from strategic analysis and advice, to financial and project management. Thanks to our broad range of skills, this is a perfect project for us to get involved in and add value to", says Mattias Johansson, Head of Newsec Property Asset Management in Sweden.
For more information about the project, please visit the official website at geelyinnovationcentre.eu.
< Back