Investment demand remaining strong in Finnish property market - Newsec Finnish Property Outlook Spring 2019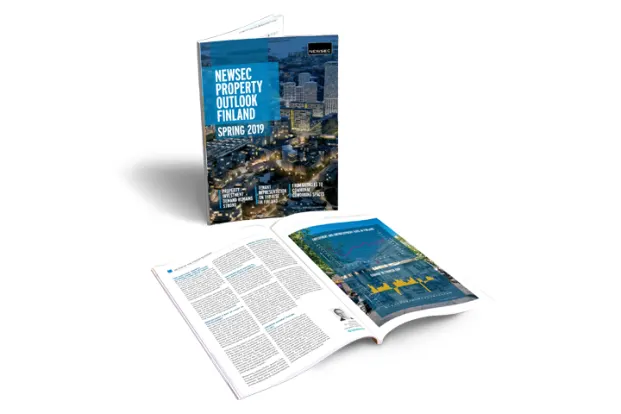 Property investment prices in Finland have not fluctuated with the stock market but experienced steady growth, and the number of transactions will again be higher than normal this year. In addition to traditional office properties, rental apartment buildings, logistics properties and consumer goods store properties are becoming increasingly attractive to investors. Municipalities are increasingly keener to outsource their properties.
Stock market fluctuations and low interest rates have encouraged investors to seek more stable and higher yields and to decentralise their property investments. The volume of significant property transactions is likely to remain at a considerably higher level than normal again this year, at around EUR 7.5 billion. However, this marks a drop of approximately 20 per cent from the previous year, according to Newsec's projections, as the supply of large-scale real estate investment packages is not likely to meet the strong investment demand. These visions are available in the recently released Newsec Finnish Property Outlook.
"International investors invested more than EUR 6 billion in the Finnish property market last year. Demand has been mainly targeted at large office property portfolios as well as large individual office properties. There has been an increase in supply in this sector in the Helsinki city centre, and the demand has driven prices up even further"says Olli-Pekka Mustonen, Head of Research, Newsec Advisory in Finland.
Rental apartment buildings, logistics and consumer goods store properties attracting international interest
Urbanisation is intensifying rental apartment building investment demand in Finland and abroad. Domestic investors have been the most active in this sector, although last year, international investors made significant direct investments in rental apartment buildings in Finland – a trend that is likely to continue to grow this year. Another sector attracting investor attention is logistics which is heavily influenced by strong growth in online trade. Location near the airport or logistics hubs adds to the appeal of these properties.
The investment demand of consumer goods store properties also remains strong and is not affected by the rise in online trade in the same way as other retail. Shopping centre investment demand, in turn, is polarising further but they are likely to maintain their position in the competition. Although in the metropolitan area in particular, the completion of new shopping centres within the past few years has already affected the profitability of some centres and increased investors' yield demands.
Municipalities outsourcing their property holdings
The public sector and municipalities, in particular, are in the process of changing their property strategy and not all municipal property investments are necessarily recorded in their own balance sheets.
"A major driver in this change was the EUR 165 million transaction between the City of Helsinki and Union Investment signed in December last year regarding the urban environment house to be erected in Kalasatama, Helsinki"says Olli-Pekka Mustonen.
Transactions in care and school properties reached record numbers last year and the trend remains strong this year.
Sign up to receive Newsec's Finnish Property Outlook to your email at https://www.newsec.com/insights/reports/finnish-property-outlook-spring-2019/.
For further information, please contact:Olli-Pekka Mustonen Head of Research, Newsec Advisory in Finland Tel. +358 44 522 2693 olli-pekka.mustonen@newsec.fi
< Back