Newsec Property Outlook Autumn 2018: A Nordic Love Story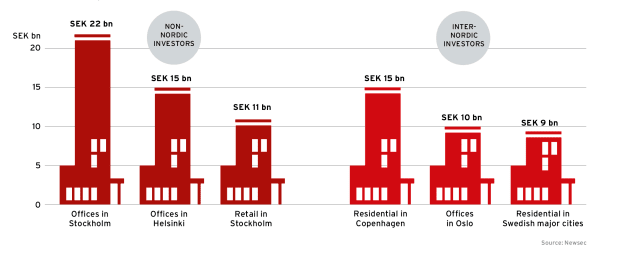 Foreign and especially inter-Nordic transactions have seen a significant increase in the Nordic countries in recent years, while the share of domestic transactions has decreased. For the first time, Nordic buyers are now larger than non-Nordic buyers, at 24 and 16 percent respectively. Swedish, Finnish, Norwegian, and Danish investors, that earlier tried their luck in Germany, the UK or Southeast Asia, have to a large extent concluded that there are advantages to keeping their money closer to home.
"Though people may joke about Finnish saunas, Norwegian cross-country skiing, Danish herring lunches, and Swedish consensus-based decision-making, one cannot deny the fact that our countries and cultures have a great deal in common. Although certain traditions and expressions may differ, we all find it fairly easy to understand one another. A sense of understanding reduces uncertainty and risk – and as we all know, that's good for business", says Max Barclay, Head of Newsec Advisory.
Different directions in investment strategiesIt is clear that investor origins influence their preferences. Investments made between the Nordic countries are primarily directed at offices, but also segments such as public properties and logistics. Non-Nordic investors focus on core real estate in the capitals, with a preference for shopping centers within the retail segment. Nordic investors prefer capitals too, but are also interested in alternative locations. For example, housing in smaller Swedish regional cities is very popular among this group, along with housing in Copenhagen and offices in Oslo.
"In the early 2000s, Newsec took a strategic decision to strengthen the links between the Nordic and Baltic markets, by thinking and acting less like individual countries. We are experiencing great interest in our region and a strong demand to collaborate with one, rather than several players, which we are proud to offer through our presence in all seven countries in the Nordic and Baltic region", says Max Barclay, Head of Newsec Advisory.
About the reportSince 2001, Newsec Property Outlook is published twice a year. It is a comprehensive and free report describing and forecasting the real estate market in Northern Europe, focusing on the Nordic and Baltic countries. The report has become a handy tool for investors, property owners and tenants within the industry.
Read the full Newsec Property Outlook at newsec.com/npo
< Back